Cybersecurity and Intelligence Solutions for Government
Federal agencies have trusted our proactive and highly specialized solutions and services for more than a decade. The U.S. Intelligence Community (IC), Department of Defense (DOD), U.S. critical infrastructure, and law enforcement agencies rely on the unique consulting, project management, and assessments offered by Secure Halo™.
Solutions Tailored to Your Needs
ANALYSIS & TARGETING
All-Source Analysis
Counterintelligence Analysis
HUMINT
SIGINT/Network Targeting
Operational Planning & Support
STRATEGY/POLICY
Regulatory/Policy Coordination
Supply Chain Risk Mitigation
Public/Private Sector Outreach
Whole of Government Strategy & Threat Mitigation
CYBER
Computer Network Operations
Enabling Operations (Off/Def)
Systems Integration & Engineering
Network Administration & Security
Insider Threat
IT SUPPORT
Vulnerability Management
Patch Management
Information Assurance
Governance, Risk, Compliance
Enterprise Security Assessment
Cleared and Credentialed Team
The Secure Halo™ team has exceptional past performance providing services to US government agencies and the DoD.  Our staff maintains active security clearances, as well as a breadth of professional certifications which include but are not limited to:
Certified Information Systems Security Professional (CISSP)
Certified Ethical Hacking (CEH)
Certified HealthCare Information Security and Privacy Practitioner (HCISPP)
Certified Cyber-Forensics Professional (CCFP)
SEI's Certified Insider Threat Program Manager
Vehicles
Secure Halo™ provides Business Consulting Solutions on the GSA Professional Services Schedule under "Tailored Solutions and Consulting" – contract number GS-00F-248DA.
Company Profile
DUNS: 785302345
CAGE Code: 4PUL7
NAICS Codes:
541512 – Computer Systems and Design Services
541513 – Computer Facilities Management Services
541519 – Other Computer Related Services
541611 – Administrative Management and General Consulting Services
541614 – Process, Physical Distribution, and Logistics Consulting Services
541618 – Other Management Consulting Services
541720 – Research and Development in the Social Sciences and Humanities
541990 – All Other Professional, Scientific, and Technical Services
928110 – National Security
DHS SAFETY-Act Designation
The Secure Halo™ Threat Vector Manager™ methodology and associated Enterprise Security Assessment (ESA) has twice been designated an anti-terrorism technology by the U.S. Department of Homeland Security (DHS) Office of SAFETY Act Implementation. Our highly unique and innovative approach to enterprise security considers traditional data security and technology, as well as five other domains of vulnerability.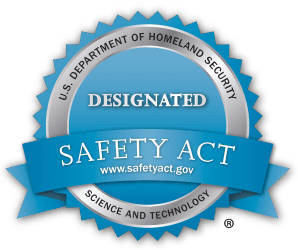 Contact
Agencies can also obtain information by contacting Secure Halo™ directly at 202-629-1960 or at contact@securehalo.com.
962 Wayne Ave, #310
Silver Spring, MD 20910
(301) 304-1700 (Sales)
(202) 629-1960 (Office)
info@securehalo.com