DHS SAFETY Act Designation
Provides Customers with Liability Protection from Covered Acts of Terrorism
Better Protect Your Organization from Threats
The SAFETY Act of 2002 encourages the development and deployment of anti- terrorism technologies by providing liability protection for solution providers. Removing the threat of liability ensures the availability of products that could significantly reduce the risks of, or mitigate the effects of, large-scale terrorist events.
About SAFETY Act Designation
During an application and approval process administered by the U.S. Department of Homeland Security (DHS), a company must demonstrate product validation and credibility to earn approval as a Qualified Anti-Terrorism Technology (QATT). SAFETY Act Designation certifies that Secure Halo™ and our Threat Vector Manager™ (TVM) cyber risk assessment methodology and associated Enterprise Security Assessment have been thoroughly examined and deemed effective.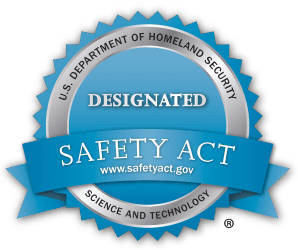 How It Protects You
The SAFETY Act creates certain liability limitations for "claims arising out of, relating to, or resulting from an act of terrorism" where qualified anti-terrorism technologies have been deployed. This means that end users of Threat Vector Manager and the Enterprise Security Assessment (such as customers and subcontractors) receive immunity from claims that attempt to place liability on them for an act of terrorism.
For additional information, visit www.safetyact.gov
962 Wayne Ave, #310
Silver Spring, MD 20910
(301) 304-1700 (Sales)
(202) 629-1960 (Office)
info@securehalo.com