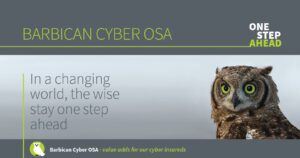 Silver Spring, MD – Partnering with Secure Halo, Barbican Insurance Group today launched its 'One Step Ahead' OSA program to offer cyber threat reconnaissance, cyber phishing defense, and cyber intrusion response at no additional cost to companies covered under a Barbican cyber insurance policy.
Read the Barbican announcement
Secure Halo will provide phishing simulations and incident response training to help companies withstand and respond to cyber attacks.  It's part of a collaborative program by Barbican, Secure Halo, and FICO to address cyber reconnaissance, intrusion, and response.  The OSA services have a combined market value of $30,000 to $50,000.
"We know the vulnerabilities hackers search for and we help organizations close those gaps. We look forward to working with Barbican to ensure that their cyber insureds have the best cyber posture possible," said Will Durkee, director of security solutions at Secure Halo.
Graeme King, business group leader for cyber at Barbican, added: "The cyber threat is growing exponentially, spurred on by ever-increasing connectivity and constantly evolving attack strategies. To stay in control, you need to get ahead of the cyber attacker – and that is exactly where we believe Barbican Cyber 'One Step Ahead' places our insureds. It brings together leaders in the cyber resilience arena to help our insureds bolster what we see as some of the most critical aspects of their cyber security strategy."
About Secure Halo
Secure Halo is a leader in enterprise security assessments, cybersecurity consulting, and managed security services. Its assessment methodology has twice been awarded SAFETY Act designation by the Department of Homeland Security. Since 2006, federal agencies and Fortune 500 companies have relied on the expert advisors at Secure Halo to solve evolving cybersecurity challenges, reduce vulnerabilities and lower cyber insurance premiums.
About Barbican Insurance Group 
Formed in 2007, Barbican Insurance Group underwrites business predominantly through its syndicates at Lloyd's. Barbican's lines of business include marine, aviation and transport re/insurance, property re/insurance, energy and specialty lines including casualty reinsurance, cyber liability, healthcare liability, financial and professional lines and professional indemnity.