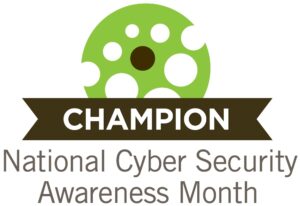 Silver Spring, MD — Secure Halo™ today announced that it has become a third-year Champion of National Cybersecurity Awareness Month (NCSAM) 2018. It will be joining a growing global effort among businesses, government agencies, colleges and universities, associations, nonprofit organizations and individuals to promote the awareness of online safety and privacy.
A multi-layered and far-reaching campaign held annually in October, NCSAM was created as a collaborative effort between government and industry to ensure all digital citizens have the resources needed to stay safer and more secure online while also protecting their personal information. As an official Champion, Secure Halo™ recognizes its commitment to cybersecurity, online safety and privacy.
"The goals of NCSAM perfectly reflect the mission of Secure Halo™ – to provide actionable advice on how to better protect information at work and at home in today's connected world," said Sean Doherty, president of Secure Halo™.
Co-founded and led by the National Cyber Security Alliance (NCSA) and the U.S. Department of Homeland Security (DHS), NCSAM has grown exponentially since its inception, reaching consumers, small and medium-sized businesses, corporations, government entities, the military, educational institutions and young people nationally and internationally.
"The Champion program continues to be a such a strong foundation for National Cyber Security Awareness Month's ongoing and impactful success," said Russ Schrader, NCSA's executive director. "We are thankful to our 2018 Champion organizations for their support and commitment to our shared responsibility of promoting cybersecurity, online safety awareness and the opportunity to protect our privacy."
As part of Secure Halo™'s NCSAM efforts, its subject matter experts will publish articles and infographics on weekly themes, participate in NCSAM Twitter chats, host a complimentary presentation on how to stop social engineering and phishing, and provide cybersecurity education to its staff.
About Secure Halo™
Secure Halo™ is an innovative leader in enterprise risk assessments, cybersecurity consulting, and managed services. With its DHS SAFETY Act-designated methodology and Secure Halo assessment platform, Secure Halo™ provides an objective understanding of security posture to help companies prioritize resources, reduce third-party cyber risk, and meet compliance challenges. Secure Halo™ supports the public sector, as well as a wide array of industries across the Fortune 500, including healthcare, manufacturing, finance, critical infrastructure, and global insurance underwriting markets.
About National Cybersecurity Awareness Month
NCSAM is designed to engage and educate public- and private-sector partners through events and initiatives with the goal of raising awareness about cybersecurity in order to increase the resiliency of the nation in the event of a cyber incident. Since the Presidential proclamation establishing NCSAM in 2004, the initiative has been formally recognized by Congress, federal, state and local governments and leaders from industry and academia. This united effort is necessary to maintain a cyberspace that is safer and more resilient and remains a source of tremendous opportunity and growth for years to come. For more information, visit staysafeonline.org/ncsam or dhs.gov/national-cyber-security-awareness-month.