Free Oct 16 Event Highlights Cybersecurity Awareness Month and DC CyberWeek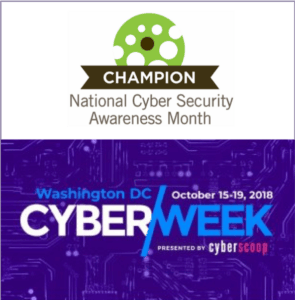 Silver Spring, MD — Secure Halo™ today announced it will hold a complimentary workshop on October 16, 2018 to educate individuals and businesses on how to avoid social engineering tactics used by hackers. "How Hackers Get You! Social Engineering Tactics and Ways to Combat Them" The free event is part of Secure Halo™'s multiple efforts in October to highlight the importance of improving cyber hygiene and resilience.
As a third-year Champion of National Cybersecurity Awareness Month (NCSAM), Secure Halo™ helps promote cybersecurity, online safety awareness and privacy protection. Held annually in October, NCSAM was created as a collaborative effort between government and industry to ensure all digital citizens have the resources needed to stay safer and more secure online while also protecting their personal information. Secure Halo™ experts will publish articles and infographics on weekly themes, participate in NCSAM Twitter chats, host a complimentary workshop, and provide cybersecurity education to staff.
Additionally, Secure Halo™ is a participant in DC CyberWeek, "the nation's largest cybersecurity festival," organized by CyberScoop. It features hundreds of community events hosted by top leaders in the cyber world. For the second year, a Secure Halo™ workshop is on the official schedule.
"Cyber criminals know that the lines between work and home are increasingly blurred in today's connected world," said Will Durkee, Director of Security Solutions. "In our seminar, we'll show how social engineering can expose your employer's or your sensitive data and lead to costly ransomware demands."
Attendees will learn how to recognize phishing attempts, see real examples of social engineering, and receive tips on how to close the door on cyber thieves.
DETAILS
Tuesday, October 16, 2018
8:45 am – 10 am
Silver Spring Civic Center – Colesville Room
1 Veterans Place, Silver Spring, MD 20910
About Secure Halo™
Secure Halo™ is an innovative leader in enterprise risk assessments, cybersecurity consulting, and managed services.  With its DHS SAFETY Act-designated methodology and Secure Halo assessment platform, Secure Halo™ provides an objective understanding of security posture to help companies prioritize resources, reduce third-party cyber risk, and meet compliance challenges. Secure Halo™ supports the public sector, as well as a wide array of industries across the Fortune 500, including healthcare, manufacturing, finance, critical infrastructure, and global insurance underwriting markets.