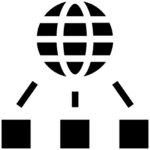 Silver Spring, MD – Secure Halo, a leader in cybersecurity consulting and enterprise risk assessment, announced the launch of a Third-Party Cyber Risk Management as a Service offering to support businesses of all sizes that find it challenging to mitigate evolving cyber threats stemming from third-party relationships, due to limited budgets, time, and staff.
Secure Halo currently assists companies to identify third-party cyber risk through its Secure Halo™ platform – a user-friendly, online tool that assesses vendor security controls and prioritizes critical vulnerabilities for remediation. With Third-Party Cyber Risk Management as a Service, Secure Halo experts can now be an extension of an organization's overall risk management team, relieving it of the burden of assessing and mitigating cyber risk across a portfolio of third parties.
"New vulnerabilities have been created due to the increase in outsourcing and strategic partnerships that today's digital business world requires, and these new risks mean that organizations need to adjust their security practices to protect critical assets," said Will Durkee, Director of Security Solutions at Secure Halo. "Our Third-Party Cyber Risk Management as a Service program can fill gaps in expertise, optimize the use of assessment and vulnerability management tools, create a uniform analysis to compare vendors' security practices, and provide insight into which third parties are the most critical."
Third-Party Cyber Risk Management as a Service includes:
Cyber risk scoring and insights through the Secure Halo™ platform
Management of the platform plus information security and risk expertise by certified Secure Halo team members
Analysis to evaluate vendor criticality and prioritize remediation efforts
Assessment of company security posture and roadmap to align vendor security controls
To learn more about Secure Halo Third-Party Cyber Risk Management services, please visit http://www.securehalo.com/solutions/managed-security-services/.
Secure Halo is a leader in enterprise security assessments, cybersecurity consulting, and managed security services. Since 2006, federal agencies and Fortune 500 companies have relied on Secure Halo to solve evolving cybersecurity challenges employing its award-winning and DHS SAFETY Act-designated methodology.