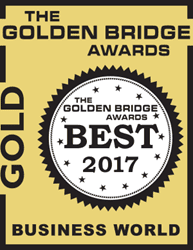 Silver Spring, MD – August 23, 2017 – Secure Halo has been awarded Gold status in two categories of the Golden Bridge Awards® – for Risk Management Solution Innovations and Security Solution for Government Innovations. Both gold awards recognize Secure Halo's new Secure Halo™ online platform released in 2017 and its DHS SAFETY Act-designated enterprise security assessment approach.
The ninth annual Golden Bridge Awards program encompasses the world's best in innovations, products and services, organizational performance, and more within multiple major industries and organizations of all sizes worldwide. Secure Halo joins leading companies like Cisco Systems Inc., HP Inc., and Wolters Kluwer on the Gold Winners list. Recipients will be honored in San Francisco on Monday, September 18, 2017 during the annual Red Carpet Golden Bridge Awards Ceremony.
Businesses and government face increasingly frequent and sophisticated cybersecurity threats introduced by hackers, insiders, and connected third parties. Meanwhile, growing regulatory requirements demand that government agencies and private industries demonstrate understanding and management of cybersecurity risks. The Secure Halo enterprise security assessment and Secure Halo™ online platform provide an efficient way to improve security posture, meet compliance, reduce cyber insurance premiums, and assess security controls across a portfolio of vendors, clients, or business units.
"We're proud to see Secure Halo recognized for innovation because it's scalable and efficient, yet in-depth for true enterprise security," said Sean Doherty, President and founder of Secure Halo. "A decade supporting National Intelligence and Defense agencies has cemented our philosophy that a holistic approach that considers not just data security but also insider threats and third-party risks, provides superior security to passive scanning solutions that view risk only from the outside-in."
About Secure Halo
Secure Halo is a leader in enterprise security assessments, cybersecurity consulting, and managed security services. Since 2006, government and commercial clients have relied on Secure Halo to solve evolving cybersecurity challenges. Secure Halo has also partnered with leading global underwriters to provide pre- and post-binding assessment to support cyber insurance policies for the critical infrastructure market.
To learn more, visit http://www.securehalo.com. Follow us on LinkedIn and Twitter.
About the Golden Bridge Awards
Golden Bridge Awards are an annual industry and peer recognition program honoring best companies in every major industry from large to small and new start-ups in North America, Europe, Middle-East, Africa, Asia-Pacific, and Latin-America. Learn more about Golden Bridge Awards at www.goldenbridgeawards.com.